About Us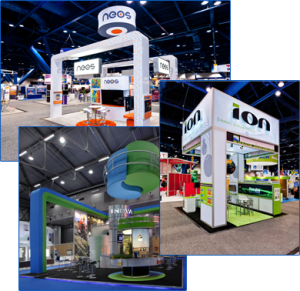 Displayco has been providing creative exhibit and display solutions since 1978. Over the past 38 years Displayco has evolved from a small screen printing and signage company into one of North America's premier exhibit and sales environment companies. Displayco specializes in business to business tradeshows and point of sales promotions.
With the addition of Derrick Exhibit and Wynne Exhibit to the Displayco team in the past few years we are expanding to create one of the largest and most experienced companies in the markets we serve.
With many years of combined experience have designed, built and installed displays for trade shows, lobbies and corporate special events. Our Management objective is to consistently deliver a product or service that exceeds our customer expectations.
At Displayco we carry hundreds of products to fulfill your trade show, point of sale and event marketing requirements. Displayco carries a large inventory of rental hardware to supplement your existing display or to create a new look for your next trade show.
Displayco is a recognized leader in high-quality graphics production. We are consistently updating our technology and printers to provide hi quality, hi speed out put on a variety of media at a competitive cost.
Our designers utilize today's technologies to provide creative, visually appealing exhibit solutions.
The 3D creative designs let you visualize your project and the attention to detail brings it to life. The award winning designs and attention to detail have attracted long term relationships with clients from across Canada and the US.
Displayco's team has successfully delivered hundreds of exhibit and display programs for customers from a variety of industries, in as far away places as China, Germany & Brazil. Displayco is proud to be recognized as an International Octanorm Service Partner (OSPI); providing us a worldwide network of strategic partners in the exhibit service industry
Our Management
Our hands on approach to everyday business and interaction with our customers is what sets Displayco apart from our competition…..